Who is Brian Jarosinski's girlfriend Stephanie Larimore?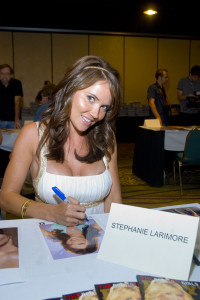 On this season of "The Bachelorette" 2013, viewers will see that Brian Jarosinki has a girlfriend. In a new preview posted on People, she shows up to confront him and Desiree Hartsock and they get it all on camera.
His girlfriend is someone that many people are going to recognize. Her name is Stephanie Larimore. She is best know as the Playboy's Playmate of the Month in 2006 according to Reality Steve. One crazy thing about her is that she dated lawyer Craig Robinson. Do you remember him being on the show?
Stephanie is also a single mom. She is gorgeous. If you want to see her, I have posted one picture on this page, but you can also look her up on Google and see a lot more skin than I am willing to show of her.
It isn't shocking that another guy would come on "The Bachelorette" with a girlfriend. Brian Jarosinki is going to get sent home over it too.