Does Lamar Odom Plan to Keep Playing in the NBA?
Fans of "Khloe & Lamar" really want to know more information about Lamar and his future in the NBA. Of course sports fans care too! Lamar recently moved back to LA, but so far he doesn't have a team for the next season. Now that he doesn't have a team at all, do you think he will end up giving up the NBA all together?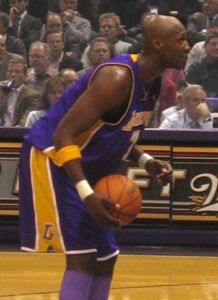 Now Wet Paint is talking about the possibility of Lamar Odom quitting basketball to become an actor. It has worked for a few people like Ice T, but I mean really do you think Lamar can act? He does a great job on reality TV, but I am honestly not so sure that acting is where needs to be in the future.
Lamar and Khloe make a great couple, but it is sad if he is going to have to lose his NBA career because of the circus of video cameras that being married to a Kardashian brings along. It sounds like Kris Jenner is all for the idea of him giving up the game. What do you think is the best career for Lamar Odom? Sound off in the comments section below.