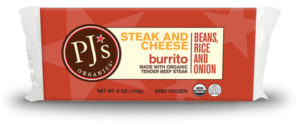 Right now people are trying to learn to eat healthier and take care of their bodies. Now you have a chance to try out PJs Organics burritos for free if you win the contest below. These burritos are organic and non-GMO.
They are working hard to put these out in new stores and they are now going to be available in Costco's in northern California. You can check the store locator on their site to see if they are available in your area. Starting April 21st, PJ's is retailed at $11.69 in Nor Cal and we will be offering a discount of $2.70 per sell unit. Hence, final cost to a Costco member will be $8.99. They offer several different kinds of burritos as well.
If you have tried these before, we would love to hear your thoughts in the comments below. They are a great option for people looking to eat healthier.
Now do you want to win a coupon for a free package of PJ's Organics Burrito? Now is your chance to do it! I will be giving away five great coupons to fans of this page to win their own coupon. You can enter below and please feel free to share this page with your friends. Let's get everyone healthy with these great non-GMO burritos that are hand rolled with handmade tortillas.