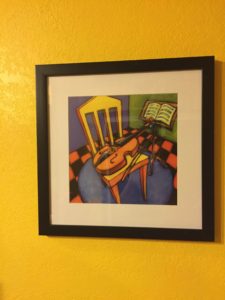 Recently we painted our kitchen a new color. It was really hard to find the perfect picture to hang on the big wall in there. Lucky for me I found Fulcrum Gallery and got to pick out a picture. The first thing I have to say about this website is that they have an amazing selection. I spent hours looking through the site and could have purchased a ton more.
The picture that I finally decided on was a violin. My husband and my daughter both play plus it was the bright colors I was looking for so I couldn't have found a better picture for my family. I located it in the music art section of the website. I can't wait to order a few more of the pictures in this category.
When looking for a picture for your home, everyone worries about price. The prices are affordable, but they do vary on Fulcrum Gallery. The one thing to remember is that you can order just the print and frame it yourself if you are trying to save some cash. I didn't order one this way yet, but it is a great idea.
The picture that I picked out came in a frame and all ready to hang up on the wall. The shipping was really fast and it showed up at the door packaged well where it would not break. I was really impressed with how it arrived. Personally I would highly recommend Fulcrum Gallery if you are looking for the perfect wall hangings for your home.
Disclaimer: This product was received for free in return for a review. The opinions here are my own.